Bomanite Toppings Systems is a revolutionary approach to designing with architectural concrete. Comprising of Patène Artectura, Micro-Top, Micro-Top XT, Thin-Set, Self-Leveler, HD Mortar, as well as Bomanite Repair Systems and additional toppings and finishes, Bomanite Toppings Systems is capable of turning any stable substrate into a prize-winning work of art at a fraction of the time and cost normally associated with elaborate forming and design work. Bomanite Toppings Systems can refurbish old, worn out surfaces and turn them into new and exciting expanses of color, pattern and texture. Bomanite's Topping Systems can be used on interior or exterior, horizontal or vertical surfaces. New construction, where complex design and color choices require costly multiple forming and pouring phases, benefits from Bomanite Topping Systems' inexpensive and time saving application methods. With the tight deadlines and budget constraints often faced by architects and designers, Bomanite Toppings Systems are the perfect solution. Bomanite Toppings Systems can take color to new heights, placing vibrant details on walls and other vertical surfaces where color could not be normally placed, allowing for unlimited design potential. Bomanite Toppings Systems bring your vision to life. Bomanite Topping Systems are installed by a network of highly skilled, specially trained franchise partners.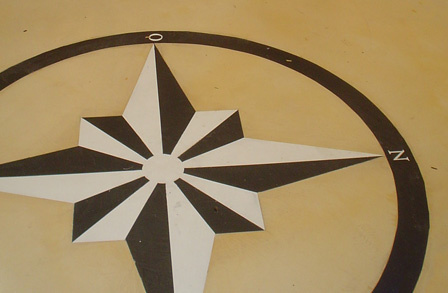 Patene Artectura
Imagine concrete flooring and paving that is innovative enough to capture and complement the beauty of the surrounding environment, yet durable and easy to maintain. Imagine no longer.

The Patene Artectura system offers the design flexibility and versatility you've only dreamed about. From office buildings to retail centers, hotels and restaurants to theme parks, single-family homes to one-of-a-kind custom mansions, Patene Artectura provides a unique flooring and paving alternative for any style. The Patene Artectura system is a combination of several specialized processes blended to create unique concrete flooring and paving options. Designed to enhance the beauty of any project, Patene Artectura blends creative techniques in coloring, patterning, texturing and finishing methods to achieve customized results. Applications include patios, pool decks, driveways, walkways, entries, plazas, common areas, courtyards, lobbies and interior flooring to name just a few.

Add special effects, unique highlights, decorative accents and custom designs with the Patene Artectura system. PateneArtectura can be used in new construction or combined with our Bomanite/Bomacron imprinting system to create dynamic and distinctive hardscapes. Patene is also the ideal system for redesigning the aesthetic appeal of existing concrete surfaces, where expanses of plain, gray concrete transform into beautiful and appealing surfaces.

Unleash your imagination with a call to your local Bomanite contractor. Because the system is individualized and custom designed for each project, Patene Artectura offers a virtually unlimited range of options to fit any design criteria or budget. Coordinating with your local Bomanite Franchise Partner, you can unleash the true potential of your next project.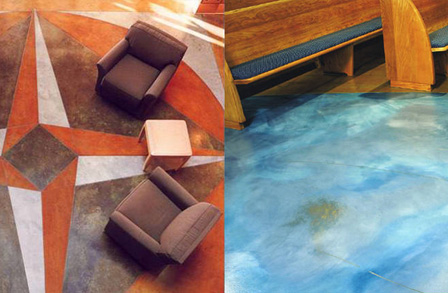 Micro-Top
Micro-Top by Bomanite. Cutting-edge technology, through the use of a paper-thin concrete medium, providing a coloration system like no other. This state-of-the-art system utilizes a troweled-on cementitious topping that tenaciously bonds to virtually any substrate, including concrete, wood, metal, plastic or asphalt. Not confined to the standard color palette or color limitations of chemical stains, Micro-Top succeeds where other coloring methods have failed. Micro-Top provides a canvas where works of art are graphically produced. Create a unique, visual dialog with your environment – inside or out – utilizing custom logos, unlimited graphics, swirls of color or marbleized hues to reach the perfect color combination. On the cutting edge of color and design.

Micro-Top can be installed as interior flooring, spotted as accent areas, continued up a wall, traversed up the side of a building or applied directly to a street section. From retail centers to theme parks, restaurants to hotels, commercial offices to residential applications, Micro-Top makes a bold statement of individual style and personality. Micro-Top provides a durable, colorfast, high-strength graphic splash to any project.

Micro-Top offers the unique ability to cover a variety of surfaces with a wide range of colors and graphics, while also providing a cost-effective method to achieve multiple colors without the high costs associated with elaborate forming and design work. New construction surfaces, where complex design and color choices require costly multiple forming and pouring phases, now benefit from Micro-Top's less expensive and time-saving application method. With the tight deadlines and budget constraints of new construction, Micro-Top is the perfect solution.

Color and design can transform existing, damaged concrete or other materials into art forms without affecting surrounding materials and fixtures. Micro-Top can also take expanses of plain, gray concrete and transform those spaces into distinctive and dynamic areas, placing color where color could not normally be placed. When a laminate floor or carpet is removed, no costly, abrasive blasting is normally required before Micro-Top is applied over the substrate, saving both time and money.
Micro-Top XT
Bomanite Micro-Top XT is a two-part, polymer-modified cementitious coating consisting of a unique rubber-like polymer liquid and a cement-aggregate blend. It can be applied over almost any clean, sound surface including concrete, cement block, tile, metal and wood. Bomanite Micro-Top XT has extraordinary adhesion and ability to withstand prolonged pedestrian and vehicular traffic. In these respects, the material is far superior to conventional cementitious coatings.

Bomanite Micro-Top XT provides a tough, water-retardant coating that substantially reduces water penetration, freeze-thaw scaling and concrete carbonation. It is a "breathable" coating that releases normal entrapped vapor without loosening or blistering. Typical uses include concrete exterior restoration, parking structure protection, sidewalk resurfacing, wall refinishing and installation coating, stadium renovation, swimming pool walkways and balcony deck surfacing.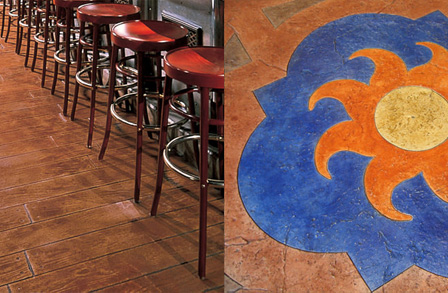 Thin-Set
Thin-Set by Bomanite is a specially formulated polymer modified topping mix that will bond to any stable, structurally sound substrate. This unique system allows the installation of a thin, imprinted concrete topping when installed at 3/8″ thick and can be feathered to a zero edge.

This easy-to-install system offers numerous design options for vertical and horizontal applications, inside or outside. Over 100 Bomanite or Bomacron patterns can be utilized with this product and Bomanite's Patène Artectura system can also be incorporated with this process. Available in 60 standard colors, Thin-Set by Bomanite can also be created in a wide variety of custom colors.

In remodeling applications, Thin-Set by Bomanite transforms badly damaged concrete into beautiful concrete surfaces at a fraction of the cost of removal or replacement of the existing surface. From retail centers to theme parks, restaurants to hotels, commercial offices to residential applications, Thin-Set by Bomanite provides a durable paving or flooring option where the look of brick, slate, stone or wood can be achieved.

Thin-Set by Bomanite is an extremely effective alternative to the demolition of an existing substrate. This product adheres to most adhesives and coatings, has excellent abrasion resistance and can be trafficked quickly. It is especially beneficial on applications where natural materials are not possible to install due to clearance issues.

The final look achieved with Thin-Set by Bomanite will appear like other Bomanite, Bomacron or Patène Artectura surfaces.
Self Leveler
Bomanite Self Leveler is an interior floor topping engineered for architectural concrete construction. Its polymer-modified cementitious technology makes it an excellent choice for fast-track construction and renovation projects. Applied at ¼ to 5/8 – inch thick over properly prepared concrete surfaces, Bomanite Self Leveler delivers a smooth floor surface that can be stained and treated to produce architectural designs featuring multiple colors, accent score cuts and stencil designs. Although Bomanite Self Leveler can be utilized to create magnificent works of art, it is tough enough for industrial warehouse floors and loading docks that are subject to continual vehicular and foot traffic. Because of its unique properties, Bomanite Self Leveler is a sensible choice for retail stores, showrooms, restaurants, hotels and loft apartments where structure, integrity, functionality and aesthetic values are satisfied.
HD Mortar
Bomanite HD Mortar is a multi-component system intended for interior use as a premium quality, decorative polymeric topping. Typically installed from 1/4- to 3/4-inch thick, Bomanite HD Mortar System can be used for interior residential, commercial and industrial construction. Bomanite HD Mortar combines the long-term durability of epoxy terrazzo flooring with the aesthetics of conventional concrete or stone. It is very versatile in use. Bomanite HD Mortar can resemble polished concrete or terrazzo, be imprinted with a decorative paving finish similar to Bomanite and Bomacron, or utilize custom aggregates that incorporate glass, metal or wood.
If needed, Bomanite HD Mortar allows for the delay of the decorative flooring installation until after the initial heavy construction is complete, eliminating the need to invest in protection of the surface and greatly reducing damage from construction-related traffic. Bomanite HD Mortar, which is quickly installed, can be planned for installation at roughly the same time that all other floor coverings and finishes are placed. Bomanite HD Mortar can be applied over concrete, ceramic tile, terrazzo, quarry tile and almost any other structurally sound, tightly adhered and properly prepared substrate.